I've been thinking a lot about how to revitalize my business of late and have been lucky enough to be accessing an amazing local program – the Basin Business Advisory. Through the program you can access free, I'll say it again because it really does feel wonderful – FREE – help with small business development. One of the aspects of business that I'm excited to work on more is developing a range of concrete products to offer people in the Kootenays. West Kootenay people are unique in their artistic aesthetic and that gets me excited and motivated about the work/play ahead.
Lately I've been checking out ideas on one of my all time favorite sites for further inspiration, Houzz
This piece below twinkles my mixed-media artist self. One of my all-time favorite past times in art school was trolling and picking over the wood and metal bins at the local transfer stations and garbage dumps. I was also one of the late night wanderers of abandoned buildings, commercial and industrial sites where I would hope to bring home something unique, that my wife would usually hate, to put into my many collection piles. One person's junk is another person's treasure right? Well, I'll note, not according to her, but really, found objects in concrete can be so beautiful and intriguing.
Art school really was a glory days time period for me and with Molded Stone Studios I'm back to enjoying process-oriented study and experimentation. Of course now I'm looking at a functional artistic application, but furniture, like the piece below, gets me thinking about form and function in the home through concrete.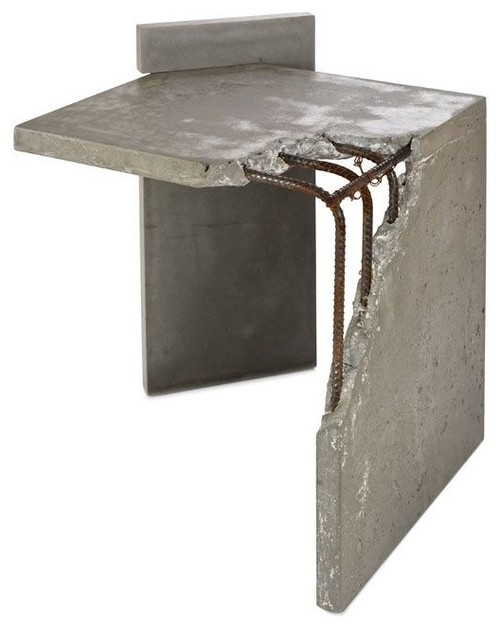 I hope you enjoy this piece as much as I do. Also send me any great ideas that you've seen and want to share with me.