I've been thinking a lot about how to revitalize my business of late and have been lucky enough to be accessing an amazing local program – the Basin Business Advisory. Through the program you can access free, I'll say it again because it really does feel wonderful – FREE – help with small business development. One of the aspects of business that I'm excited to work on more is developing a range of concrete products to offer people in the Kootenays. West Kootenay people are unique in their artistic aesthetic and that gets me excited and motivated about the work/play ahead.
Lately I've been checking out ideas on one of my all time favorite sites for further inspiration, Houzz
This piece below twinkles my mixed-media artist self. One of my all-time favorite past times in art school was trolling and picking over the wood and metal bins at the local transfer stations and garbage dumps. I was also one of the late night wanderers of abandoned buildings, commercial and industrial sites where I would hope to bring home something unique, that my wife would usually hate, to put into my many collection piles. One person's junk is another person's treasure right? Well, I'll note, not according to her, but really, found objects in concrete can be so beautiful and intriguing.
Art school really was a glory days time period for me and with Molded Stone Studios I'm back to enjoying process-oriented study and experimentation. Of course now I'm looking at a functional artistic application, but furniture, like the piece below, gets me thinking about form and function in the home through concrete.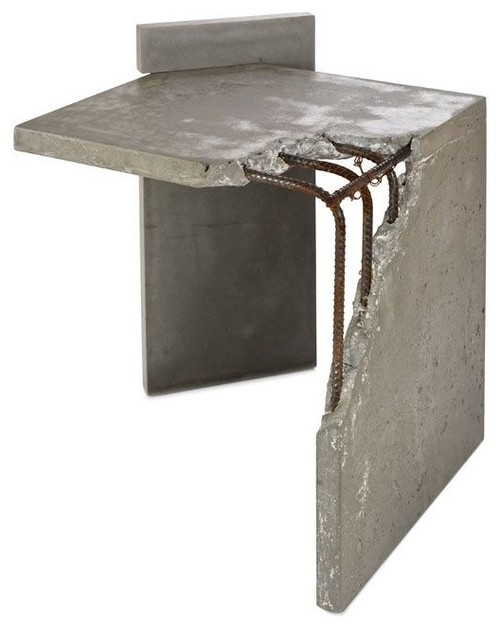 I hope you enjoy this piece as much as I do. Also send me any great ideas that you've seen and want to share with me.
February 10, 2013
FOR IMMEDIATE RELEASE
Local Artist Launches New Studio Specializing in Decorative Concrete
Winlaw, BC – Local artist Brett Pope is officially launching Molded Stone Studio to fill a demand created by the design trend towards decorative concrete in the West Kootenays.
Located in Winlaw, BC, Molded Stone creates one-of-a-kind functional concrete pieces with artistic and sculptural intention for home owners and commercial applications. Local materials, sand and aggregates, primarily quarts and granite, are used for the studio's unique pre-casting techniques.
"We create beauty in the home in the form of functional, every-day objects like bathroom vanities, fireplaces, furniture, stair-treads, architectural details, countertops, and commercially in the form of front desks, bars, wall-panels, front entrance areas, and water features," says lead studio designer Brett Pope.
Graduating from the Kootenay School of the Arts in 2000 majoring in Mixed Media and Bronze Casting, Pope has 16 years of experience working with three dimensional forms using sculpture and assembling found objects, in addition to experience in construction doing foundation work to roofing. Prior to launching the studio Pope spent the six years focussing on the uses of decorative concrete and training under Fu Tung Cheng – one of the founders of the decorative concrete movement.
Concrete features offered by the Molded Stone Studio are influenced by Cheng's unique knowledge base. For example, the integration of back splashes, false fronts, sinks, drain boards, trivets, inlays and other personal details into the functionality of day-to-day objects.
"Molded Stone Studio is excited about new applications coming onto the market for use in pre-cast concrete projects," says Pope. "One recent revolution in decorative concrete is the availability of lightweight concrete." Known in the industry as Decorative Fibre Reinforced Concrete or Glass Fibre Reinforced Concrete (DFRC /GFRC), this product permits large-scale pieces without the usual seams that would normally be necessary due to weight constrictions.
"We gave Brett some objects that we wanted to be part of the countertop and we were so pleased with the innovation and creativity around how he integrated them – what he came up with was really awesome," says Chloe Sage.
"We were able to incorporate accents into our countertop that made it into an original piece of art that is functional and inviting to the touch," Dale Johnson.
Visit Molded Stone Studio's online portfolio for a glimpse into the stunning possibilities of customized concrete design at www.moldedstone.ca.
For more information contact:
Brett Pope
Molded Stone
250 226 6918
Contact us by email
www.moldedstone.ca